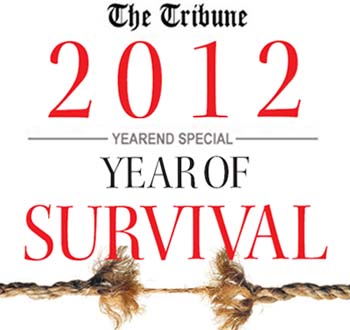 Sunday, December 30, 2012
 

SOCIETY
Reading in the e-Book Age
It was a year with many good books, and with the introduction of Kindle store in India, a number of Indians started reading e-books
Roopinder Singh

WHAT do you say about the year in which the blockbuster, the world over, including in India, was an erotic book which left critics' search for literary merit largely unfulfilled? You may hope for a better one down the list, only to find out that the other bestsellers that followed were part of the same trilogy.

You may recall that British author E. L. James' Fifty Shades of Grey, the erotic novel set largely in Seattle, USA, and Fifty Shades Darker, the second volume, were both published in 2011. His Fifty Shades Freed, the third part of the series came out at the beginning of 2012. Yet they dominated the sales charts, and presumably minds of the readers, most of them women. The books are erotic, and feature elements of sexual practices that have drawn ire of women's rights groups, as well as many conservative people.

It was also the year we got an account of a life transformed by a fatwa, of how Salman Rushdie made himself invisible as he lived under police protection. India had banned his bookThe Satanic Verses, and many other countries followed suit. Then came the fatwa by Iran, and Rushdie's life was in peril. His latest book, Joseph Anton describes Rushdie's life in hiding. It received mixed reviews, but flew off the shelves at a steady nip.

Yes, this was also a year of masterly exploration of the lives of the people we render invisible all too often, poor people. Katherine Boo's Behind the Beautiful Forevers: Life, Death and Hope in a Mumbai Undercity,deservedly won accolades.

Young writers had their say. One of the youngest Sahitya Akademi award winners, Rupa Bajwa explored middle class lives in her Tell me a Story, with empathy and understanding. Ravinder Singh continued his bestselling run with Can Love Happen Twice? and Palash Krishna Mehrotra's Butterfly Generation created waves.

Pankaj Mishra's cerebral From the Ruins of Empire: the Revolt Against the West and the Remaking of Asiamade had much food for thought; Gurcharan Das's readable India Grows at Night stressed on what he had said earlier; Shashi Tharoor managed not to get into trouble with his Pax Indica: India and the World of the 21st Century, even as Stephen P. Cohen explored The Future of Pakistan.

A Soldier's General: An Autobiography by General J.J. Singh evoked interest in military circles; M.K. Kaw'sBureaucrazy gets Crazier: IAS Unmasked was picked up by many and Ravi Subramanian's The Bankstersold well; whereas the bestselling spot again went to Chetan Bhagat, this time for his non-fiction book What Young India Wants.

For lovers of historical fiction, the prize, yes the Booker, went to Hilary Mantel's Bring Up the Bodies, while many in India curled up with Empire of the Moghul: The Tainted Throne written by Diana and Michael Preston who use the pen name Alex Rutherford.

It was a year with many good books, and with the introduction of Kindle store in India, a year in which a number of Indians started reading e-books.

The new year will bring new releases, new fare to chose from as well as new ways to read books, thanks to the growing number of e-books not only available in India, but also books by Indian writers published from India.

Reading is here to stay, although many people now read on the screen rather than from the page.